From 22nd – 26th November chefs Mauro Colagreco and Jorge Vallejo and their teams will swap restaurants, taking their signature dishes across the Atlantic for an unprecedented, exclusive, restaurant event. Mauro and seven of his team will host a pop-up at Quintonil in Mexico City, while Jorge and his chefs will simultaneously take over Mirazur on the Côte d'Azur. Chef Mauro Colagreco currently hold's an enviable two Michelin stars at Restaurant Mirazur, Menton, and gained fourth place in The World's 50 Best Restaurants this year. A long-standing friend of Mauro, Jorge Vallejo is one of South America's brightest culinary stars, and is currently ranked 22nd in the World's 50 Best list.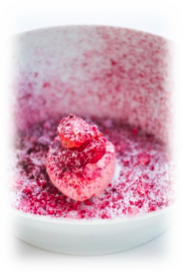 The idea was conceived following the enormous success of a one-off autumnal dinner that Vallejo curated at Mirazur this year and the friends decided to 'swap' restaurants and teams to bring a taste of the South of France to Mexico and vice versa.
Born in Ciudad, Mexico, Jorge Vallejo opened his restaurant Quintonil with his wife Alejandra Flores in 2012. Success followed quickly, with Quintonil gaining the prestigious Gourmet Award immediately after opening, and entering the World's 50 Best Restaurant list in 12th place, the highest ever attained by a Mexican restaurant.
Join us in this gastronomic revolution and reserve your table at "Quintonil" now!
From 22 to 26 November 2017 - Service from midday to late evening, 26th November only for lunch.
For media requests and photos please contact Ivan Crispo at Lotus ivan@lotusinternational.net
For bookings email reservation@mirazur.fr
Exclusive menu 150 Euro Wine pairing 70 Euro